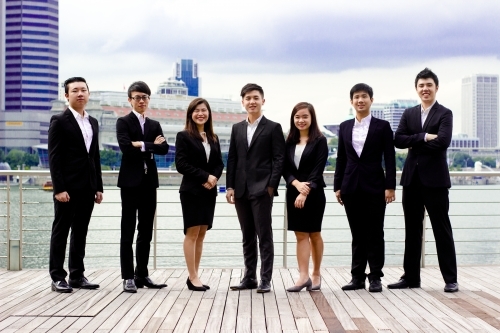 Merchants' Club 8th Executive Committee
From left: Melvin Lian (Business Development Director), Thong Wei Quan (Events Director), Jessica Veronica (Vice President), Bon Seah (President), Mary Nguyen (Corporate Communications Director), Hoon Qi Tong (Honorary General Secretary), Eric Go (Research Director)
The Merchants' Club is the student body that represents all students who are on the Track. It plays an active role in organising events and activities that contribute towards the learning journey of its members.
The Merchants' Club has played a key role in organising several key activities for the students. These activities include Industry Study Missions, the ITI@SMU Networking Night and site visits to the different facilities of trading related companies. The Merchants' Club works closely with ITI@SMU in the selection of the countries and the companies to visit and plays a key role in working with senior managers from industry in crafting the agenda and learning objectives of these visits.
Recent visits include, shipping facilities, logistics terminals and production plants of companies such as Olam, Noble, Ruchi, PT Bayan Resources and Reliance. Local site visits included Horizon Oil Terminal at Jurong Island, office visits to Glencore, Cargill, JustCommodity and Kim Loong Resources in Malaysia. These visits provided ample opportunities for hands-on learning and provided ITT students with relevant exposure to the commodities and its related sectors. These events also open up avenues for the students to interact with senior management, traders, operators and managers on their areas of learning interest. These learning opportunities have distinguished the Merchants' Club from other students' clubs in SMU.
To augment the continual process of learning, the Merchants' Club started a student-led research arm where students are divided to look into the 3 key sectors. Namely, energy, metals & bulk, and agri-commodities. They are then responsible for producing research reports about the selected sector and provide insights about companies, their competitors, and key news events. The findings from are consolidated and shared with the rest of the students twice a year.
The Merchants' Club is also tasked with the promotion and marketing of the club amongst to the rest of the SMU student population to ensure that students who have an interest in commodities are aware of ITT, the Merchants' Club and their activities. The Merchants' Club regularly presents at "Know Thy Commodities" talks for SMU students and participates in the "ITT Info Sessions".
Last updated on 08 Dec 2016 .