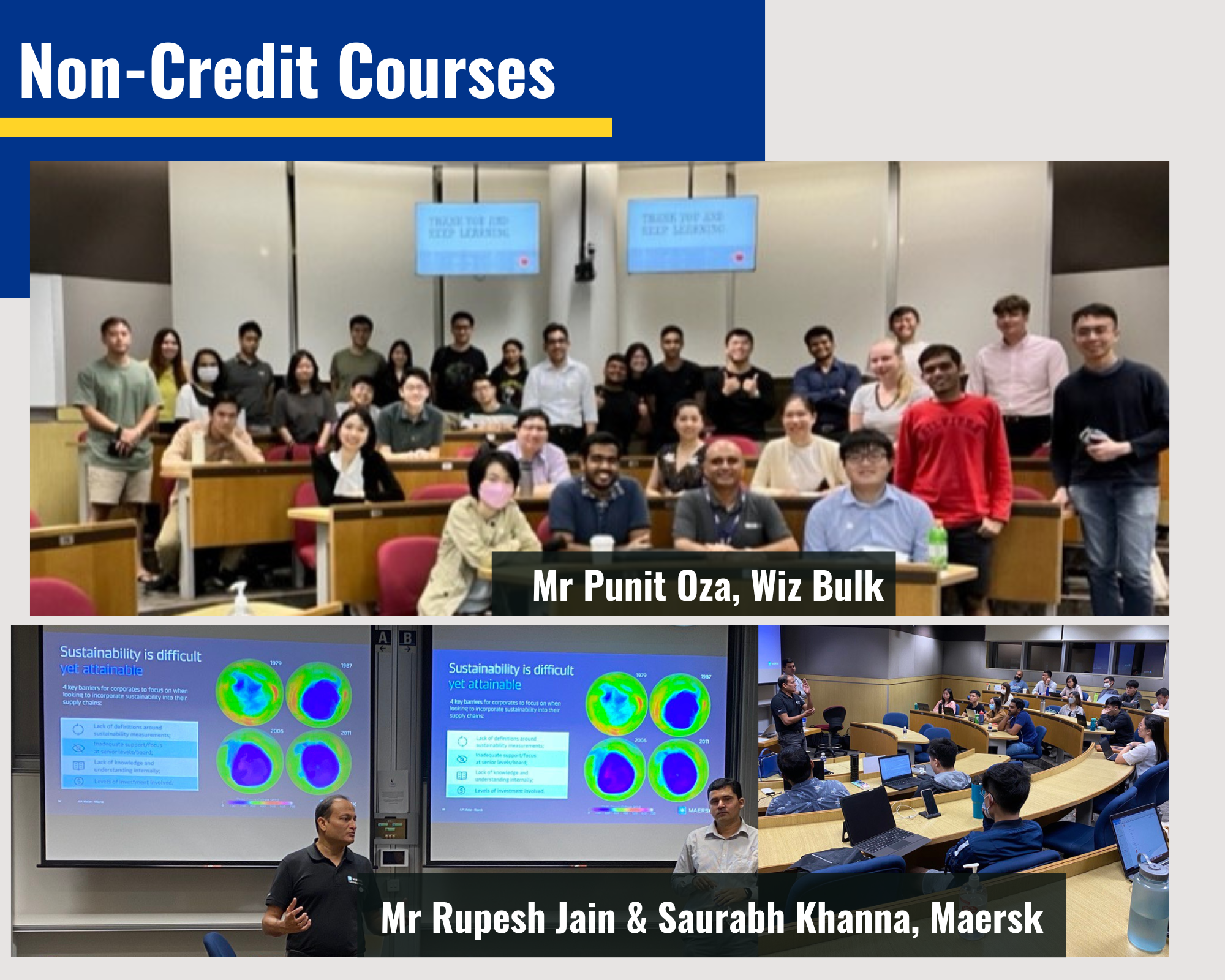 ​
​​​To ensure that the students on the ITT and MBOT tracks benefit from a holistic learning experience, ITI@SMU organises Non-Credit Courses (also known as Guest Seminars) to complement the knowledge that the students acquire in the classrooms. The primary objective is for students to develop a comprehensive understanding of the end-to-end value chain for the trading and maritime industry.
These courses are delivered by industry practitioners to equip students with additional real-world knowledge. These courses are not graded, but attendance is compulsory.
ITT and MBOT students must complete at least THREE (3) non-credit courses to fulfil the track requirements. Students taking double tracks (e.g. ITT and MBOT) must complete FIVE (5) non-credit courses.
In one of the Guest Seminars, the trainers, Mr Rupesh and Mr Saurabh, Managing Directors from Maersk, shared with the students the role of sustainability in global logistics.
The following is a summary of what Mr Rupesh shared during their session.
Sustainability in Global Logistics
In October 2022, he and Saurabh Khanna hosted a 2-day sharing session on "Sustainability in Global Logistics" for students from Singapore Management University (SMU).

He felt that with the level of engagement, participation and questions from the participants, it was heartening to see the issue is no longer "aesthetics" or "tick box exercise" for the generation who will join the workforce soon. There was a question about the barriers corporations face when integrating sustainability into their supply chains. There are many lacks definitions around measurements, inadequate support/focus at senior levels, lack of knowledge & understanding internally and the key one related to levels of investments involved. They were happy to share their perspective and how Maersk is doubling down on its efforts and commitment to solving each part of the piece.

It was excellent to have Kunal Shah from Anaergia, one of the supplier partners in green fuel production, and Marcus LeMaster, P.Log. Schneider Electric, one of their customers with Sustainability as their key priority, joined him. They tried to illustrate decarbonisation efforts in action, solving the complex problem of making supply chains efficient, squeezing out inventories, right-sizing inventories, demand sensing and linking that to production.

He thanked ITI@SMU for the invitation and all the participants for the engagement.

He quoted: "The decade of action is upon us in the NOW and HERE. It's IMPORTANT as much as it's URGENT … ALL THE WAY!!!"