Developed by the International Trading Institute at Singapore Management University (ITI@SMU) in partnership with Enterprise Singapore, the Workforce Singapore (WSG) and the International Chamber of Commerce (ICC) Academy, the International Trading Professional Conversion Programme (PCP) in Commodities Track provides an overview into the trading value chain particularly in the commodities sector. Participants can look forward to acquiring knowledge in the areas of Supply Chain, Risk Management, Trade Documentation, as well as Trade Digitisation; well preparing them for a variety of middle office roles in the commodities value chain.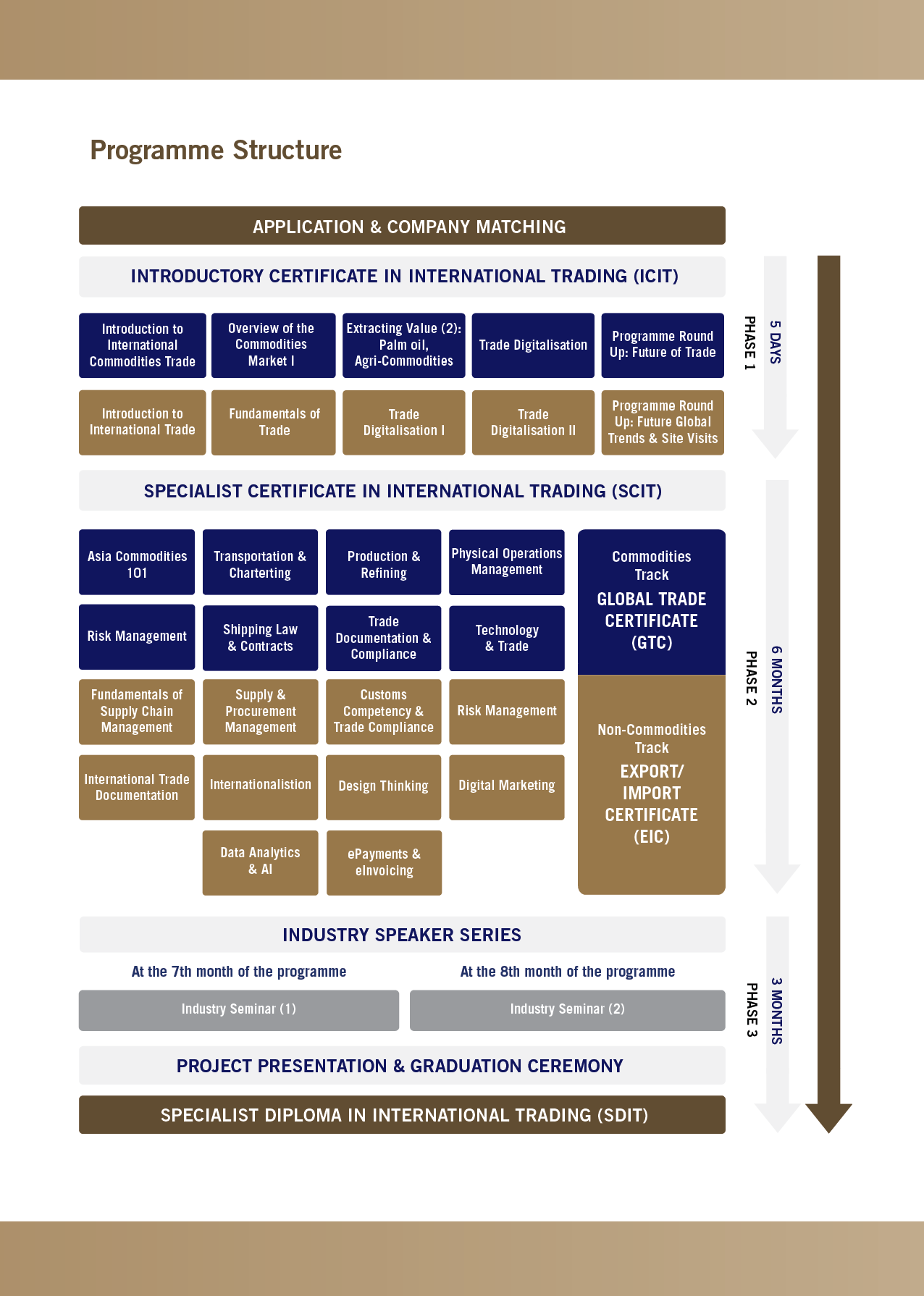 Introductory Certificate in International Trading (ICIT)
Day 1 Introductory Certificate in International Trading (ICIT)
The Trading Sector in Singapore
Historical Developments of the International Commodities Market
Understanding the International Trade Flows
DAILY ROUNDUP
Day 2 Overview of the Commodities Market
Global Logistics and Trade
Asia Commodities Trade – LNG
Asia Commodities Trade – Oil
DAILY ROUNDUP Site Visit
Day 3 Overview of the Commodities Market (con't)
Asia Commodities Trade – Palm Oil
Asia Commodities Trade – Agri-Commodities
DAILY ROUNDUP
Day 4 Trade Digitisation
Tech Disruption in the Maritime Industry
Cybersecurity and Challenges in the International Commodities Trading Sector
Internet of Things, Analytics and Predictive Data
DAILY ROUNDUP Site Visit
Day 5 Programme Roundup
Blockchain
Fintech
Panel Discussion
PROGRAMME ROUNDUP and Networking Session
Specialist Certificate in International Trading (SCIT)
SYNOPSIS OF MODULES

Supply Chain & Operations
This module aims to provide students with the critical knowledge of logistics and supply chain management against the backdrop of physical commodities trade. Participants will be introduced to the upstream and downstream processes for both wet and dry bulk. As part of SMU's experiential learning approach, this module includes a site visit to a palm oil plantation where participants will get to see the extraction and refining processes of palm oil products.

Transportation, Chartering, Storage & Refining
Participants will acquire an overview on sea transportation, its services, and supporting infrastructure. It covers shipping and freight terminology, basic shipping processes and documents, with a focus on tanker shipping. Learn more about chartering basics; terms, clauses and processes, and how storage of commodities and its refinery processes will affect supply chain optimization.

Physical Operations Management
Participants will gain an understanding of the product units of measurement, specification parameters as well as testing methods used in an operational setting. There will be case studies presented on the common operational challenges: how situations where demurrage, dues, dead freight, delay or delivery windows can impact costing.

Trade Documentation & Compliance
This module covers the various trade documents and their purpose in international trade. Learn about the documents produced by the different principal stakeholders, such as contracts of sale, bill of lading, bill of exchange, and more. Case studies on the examination of documents under documentary credit, highlighting the law and practice of compliance as well as documentary fraud will also be included.

Shipping Law, Legal & Contract Administration
The aim of this module is to provide students with the knowledge and understanding of the main principles of Maritime law. Participants will learn about legal principles behind various legal instruments, such as international conventions, statutes and case law. The module will also provide students with an understanding of the various incoterms they need to pay attention to in contracts and agreements.

Risk Management
Understand the importance of Risk Enterprise Risk Management and how it value-adds to a company's performance. The topics covered will include customer relationship management, managing of reputational risk, liquidity risk, business risk and strategic risk in the context of risk-based profitability. At the operational level, participants will learn how to define risk and acquire a basic understanding of the approaches used to identify, measure and reduce risks within the commodities trade sector.

Soft Skills
The economy on a whole has been disrupted by technology. This module introduces participants to the tech updates in the trading ecosystem, as well as provide a view into how risk management systems are assisting trading houses in mitigating their risks.

Technology & Trade
Knowledge and technical skillsets are important but learning how to deal with delicate interpersonal relationships between colleagues and stakeholders is a key driver in collaborative success. Learn how to communicate effectively to both internal and external stakeholders, and how having the right ethics will help to mould the right corporate culture.