OVERVIEW
The International Trading Institute at Singapore Management University (ITI@SMU) was formed as part of a tripartite initiative between the government, industry partners and the Singapore Management University. The first trading institute in the world to be set up within a university, it is Singapore's premier platform for leadership and talent development in the arena of international trading.
ITI@SMU At A Glance

Creating value for the sector by developing a pipeline of talent across the trading value chain

Thought leader in the area of international trading

Strengthening Singapore's position as a global trading hub
MESSAGE FROM ACADEMIC DIRECTOR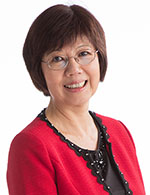 Over the last decade, centre of economic growth and activity has shifted increasingly to the east. Therefore, Singapore is well positioned to serve as an international trade, maritime, and logistics hub to capture the opportunities for companies in the region.
International Trading Institute (ITI@SMU) has a key role to play in developing human capital and knowledge in collaboration with SMU, Enterprise Singapore( ESG), Maritime and Port Authority of Singapore (MPA), and an ecosystem of industry partners. This will strengthen Singapore's position as a premier international trading, maritime and logistics hub.