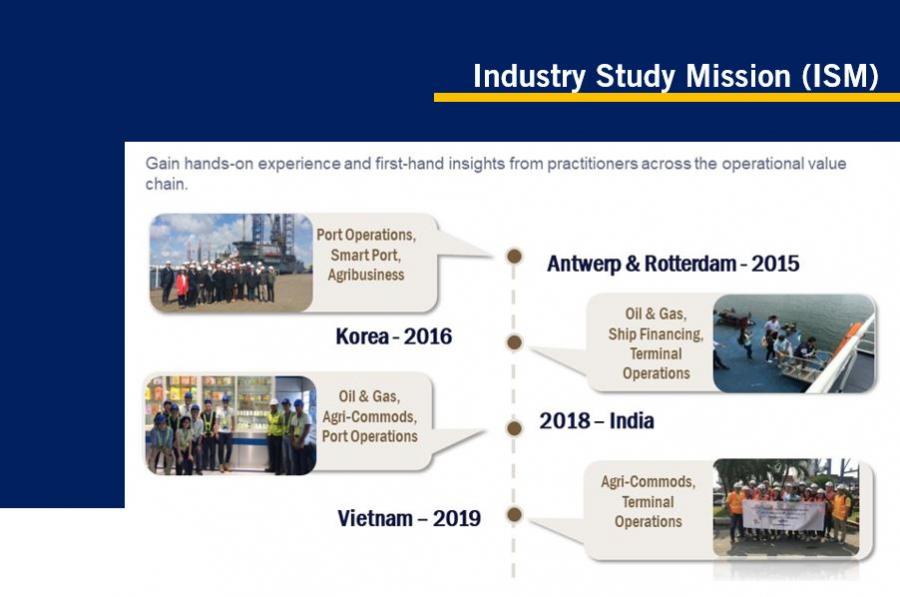 ​
​​Through the Industry Study Missions (ISMs), students have the opportunity to travel to different parts of the world where they visit various maritime and trading operations to learn from industry practitioners about the realities and challenges they face when operating on the ground.

From 7 to 15 December 2019, ITI@SMU with input from student leaders of the Maritime Merchants Society Student Club organised an Industry Study Mission (ISM) to Ho Chi Minh City, Vietnam. Students from the ITT, MET and MBOT tracks had the opportunity to visit various local and international companies operating in Vietnam. This ISM was only made possible with continual support from our government and industry partners.

To ensure that our students gained valuable and diverse experiences from this ISM, each day of the trip comprised of visiting a variety of companies including food & beverage production, agri-commodities and ports. Those who were interested in trading were privileged with visits to established players in the industry, namely Wilmar CLV and Olam.

Through these visits, they were able to develop a better understanding of the inner workings of several commodities, intermediate goods production, and even consumer products manufacturing companies that used the various traded commodities as their product inputs.
Aspiring future leaders of the maritime sector had the opportunity to learn in greater detail about the various elements of the maritime sector through visits to Tan Cang-Cat Lai Port, Lotus Port and SP-SSA International Terminal Port. These visits helped to reinforce what they had learned in the classroom as they were able to observe container, bulk and cargo operations.

The warm hospitality that the companies displayed as well as their willingness to share and engage our students provided for a meaningful and fulfilling learning journey.
| | | |
| --- | --- | --- |
| ISM Dubai 2012 | ISM Indonesia 2013 | ISM Indonesia 2014 |
| ​ | ​ | ​ |
| ISM Copenhagen 2014 | ISM China 2015 | ISM Antwerp 2015 |
| ​ | ​ | ​ |
| ISM Korea 2016 | ISM India 2018 | ISM Vietnam 2019 |
| ​ | ​ | ​ |